Whether you are building a simple Joomla website, a Social network or a powerful web application; driving traffic is critical for your success. Invitex is the most powerful Viral Invitations system for Joomla today and we have just made it even more awesome !
We are happy to announce that Invitex v2.9 is now available to all subscribers and it comes packed with features, lots of bug fixes and lots of UI improvements. Read on to see what all is new with Invitex !
Ability to Specify Name as well as Email in Manual Invitations
We now allow you to specify the Name of the person you are inviting when you are sending your invitations. This means your Invites are more personalised and are more likely to respond !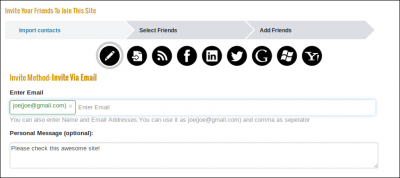 SMS Invitations via Clickatell
With this feature, we take Viral invitations to a whole new level with a huge increase in reach. SMS Invitations allow you to send Invitations via SMS by specifying the Name and Cell Number of the person you are inviting. In addition, you also have the option of sending a quick personal message with the invite.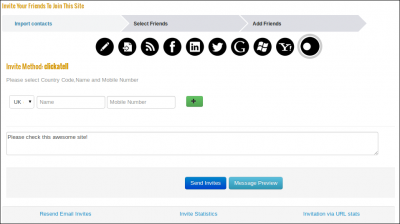 Easysocial Integration
You have been asking us for a tighter Integration and a native App for EasySocial for a while now. We are sorry for the delay but its finally here ! The Invitex app sits nicely in the EasySocial layout and gives a more native experience in the Invitation flow.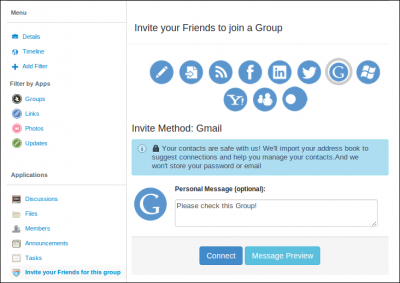 In addition, we have also introduced new Invitation types specific to EasySocial to let you Invite users to EasySocial specific elements.
Invite to ES Profile
Invite to ES Group
Invite to ES Event
Plus we have made these invitation types very accesible by adding a nice link in the EasySocial sidebar when you are on your Profile, group or event page.
Invite Guests or EasySocial Friends !
Invitex now gets a new Invitation method to allow you to invite your EasySocial Friends ! With Invitex, you get a single flow whether you want to invite your friends via email, external social networks or your friends already on EasySocial.
New improved Dashboard
Keep a track of everything. You can analyse all the invitations using this Dashboard which gives a birds eye view . It includes stuff like Number of invitations sent, invitations accepted, total inviters plus analysis of invitations associated with the Social networks like Facebook, Twitter, Linkedin etc.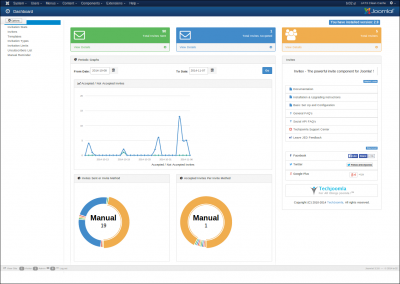 Detailed stats report of the invitations sent.
Invitee's stats report in back end,detailed stats report of the invitations sent. The report contains information about Inviter name, invitee name, invitee email id, method of invitation and much more.

Introducing bit.ly as a URL Shortener for Twitter
Due to some issues with using the Google url Shortener, we have introduced bit.ly as a URL shortener. Currently this only works with Twitter. In future releases we will be making it as a general option.
Revamped Backend User Interface as per Joomla 3 Guidelines
We have completely refactored the Invitex backend views as well a lot of the backend code to follow Joomla 3 coding guidelines getting rid of a lot of accumulated technical debt in the process. This has also been done to frontend list views. In future releases, we will be refactoring the remaining code as well.
Experience Invitex
EasySocial Demo Jomsocial Demo
Invitex sends invitations in such a way that you have to sign up! :)