HO HO HO!!
Christmas is here and we are all geared up to celebrate it by decorating our office with Bells, lanterns and not to forget the tree giving a perfect festive look. We all are anxious and excited to make you all a part of our celebration here at Techjoomla.
So, we are announcing a FLAT 10% OFF on all our products for Christmas Day and to make it even more better as the New Year is just at the corner why don't we celebrate it together?
Announcing one more FLAT 10% OFF on all our products again.
Hurry and make sure you get a copy of your favourite product this Christmas and New Year!
X'mas offer: Code: CEBCHRISWITHTJ
Validity: 24th Dec and 25th Dec
New Year's Offer: Code: CEBNEWYRWITHTJ
Validity:TIll 1st Jan
2 Discounts + 4 Days + 2 Reasons to Celebrate = Rejoicement to it's Fullest!!
Note: Offer not Valid on Shika Early Adopter!

Here are some awesome Discounts from our partners:
JoomUnited: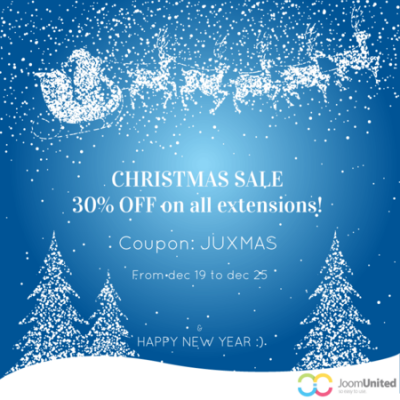 Templaza: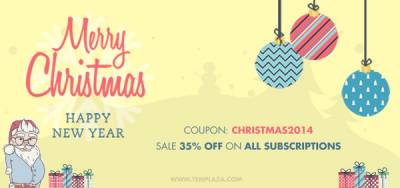 DJ-Extensions: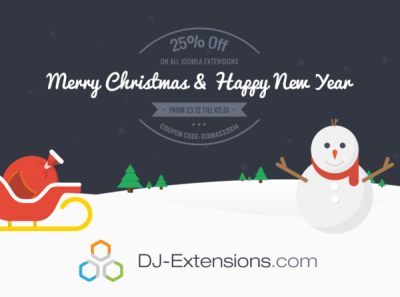 Joomlamonster:
Coupon Code: XMAS2014JMCROSS , 30% discount on ALL , valid till 4th January 2015

ThemeXpert:
Coupon Code: NEWYEAR15 , 50% discount on ALL , 15 on Pro, valid till 5th January 2015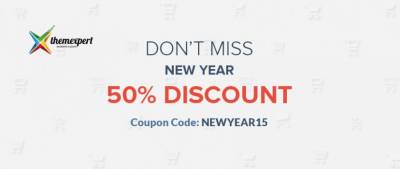 ZooTemplate: