1 minute reading time
(151 words)
Say no to Pirated Joomla Extensions & keep your site secure ! Download extensions only from our official site.
Recently, it has come to our attention that some non paying users have downloaded non official copies of our extensions from Warez & nulled sites & have ended up getting their sites hacked. This has been reported for SocialAds, Invitex, JBolo & JGive so far. It looks like some backdoor code had been injected in the extension files before making them available for download on Warez sites.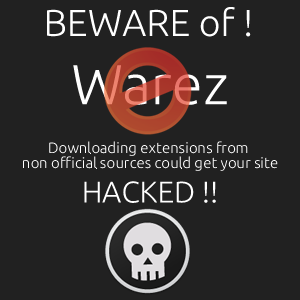 We appeal to all users of our extensions to make sure they download their extension copies from the official site. If you have a developer who is managing your site & extension installations etc, also ensure they follow this.
Note that Techjoomla is not liable to support any non customers who download extensions from any external warez/unofficial sites/ forums. If you are using an unofficial copy, we would strongly suggest purchasing a valid subscription and install the official version available at our website http://techjoomla.com
Stay Informed
When you subscribe to the blog, we will send you an e-mail when there are new updates on the site so you wouldn't miss them.