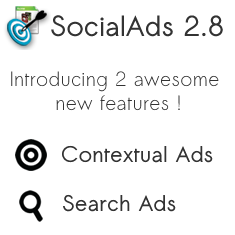 Yes ! You heard it right !! Contextual Ads is the BIG new feature in this SocialAds release.
In line with our commitment to bring you the most versatile and feature rich Advertising solution for Joomla, we now introduce our next BIG feature - Contextual Ads or Keyword based targeting. For contextual ads to be accurate, its necessary to be able to accurately find the most important keywords in a page, such that the user viewing the ads will find them to be closely related to the content he is seeing.
Keyword Density, Pattern matching, reference matching ... the list of methods that can be used to accertain accurate keywords can go on and on & this is a technology that is continuosly under improvement. Google does this pretty well with Google Adsense & Adwords products.And now, SocialAds has brought it to Joomla !
Search Ads which leverages contextual ads to display Ads relevant to searches is the next awesome feature. Using this, Search pages on your site can be monetized by showing relevant Ads alongside !
Both these features are a huge boost & SocialAds can now boast of a combined feature set of Google Adssense & Facebook & LinkedIn Ads all bundled in one ! Contextual Targeting can be used individually or in combination with Geo & Social Targeting if needed.
With these features, SocialAds is now highly recommended for Content heavy websites like News Portals & Blogs ! Make sure you get SocialAds for your site today ! You can demo the Contextual Ads feature here & the Search Ads feature here.
Special Offer !
Get an awesome 15% Discount on Purchase of SocialAds only for the next 24 hours ! There is no need of any Discount code ! Buy it now !
Read on for details about both the features & the full changelog ...
Contextual Targeting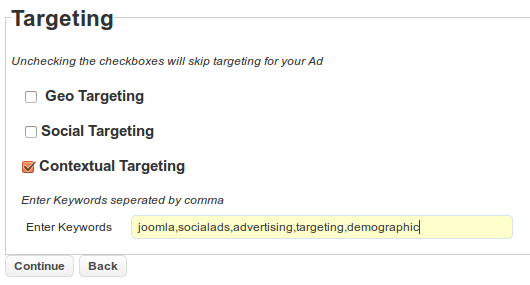 In addition to Geo & Social Targeting options, we have now introduced an awesome new option which is especially interesting for sites not Using any Social extensions. With Contextual targeting, virtually any Joomla website can harness the awesome power of SocialAds. Whats more, if you have demographic data, then you can your users can do combination targeting as well !
Lets see how Contextual targeting in SocialAds works..
We have used multiple comparison methods for keyword prediction. One of them is Smart Search integration..
Joomla Smart Search integration if enabled can greatly increase ad accuracy. Smart search uses an awesome search indexing technique which helps do keyword mining for improving search results. We decided that integrating this was much more efficient then writing a parallel keyword mining tool.
In order to use Smart Search data, cron job needs to be set to let SocialAds convert Smart Search indexed data to a more usable format. Once done, SocialAds can accurately find keywords for any content that has smart search plugins. Note that Smart Search data is only available for individual items and not for collective pages like List views and blog views. In their case, Meta data is used. Smart Search data based targeting will ideally work for any Joomla extension that has a smart search plugin. We have tested it to work fine with Joomla Content, Zoo, EasyBlog to name a few.

The second method we use is Meta data retrieval. Meta data is useful for pages that do not have any Smart Search indexed keywords available & can thus be used to show contextual Ads for any pages irrespective of whether there are Smart search Plugins for them or not.
Search Ads
Search is one of the Primary ways in which a user browses any website. Monetizing search pages, thus becomes extremely important. Leveraging Contextual Targeting, SocialAds can monetize virtually any Search page by showing Ads relevant to searches. We have already tested Search Ads with Joomla Search, Joomla Advanced Search & JomSocial Search.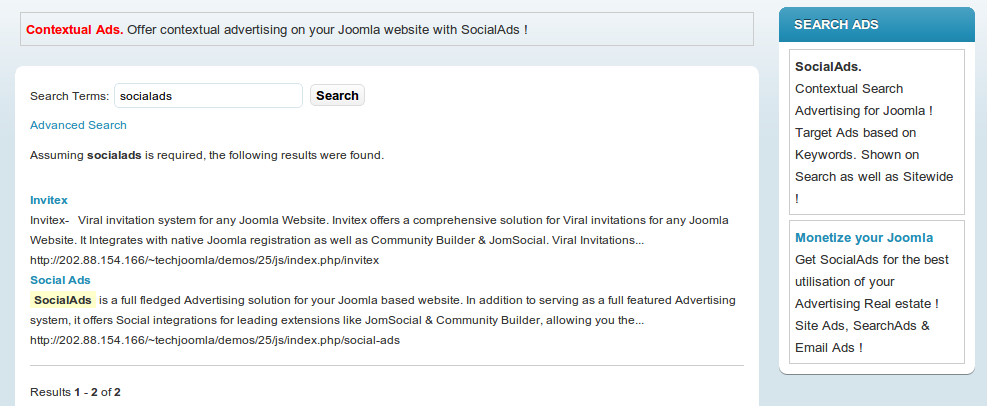 Full Changelog
Features
12730 Show Ads based on priority given in backend config(Socialaads,Geo Ads,Contextual As)
12565 Show Ads based on content on page (in joomla 2.5 and above[since it uses smart search component])
12498 Order of Targeting Fields refer ticket #5316
12731 Show Contextual Ads for Search Pageslike google Ads
12732 Show Ads based on meta keywords of each menu
Bugs
12551 per day Ad seen one day more than the set date range (see desc)
12552 do not show buy more button for per day ADs show it only if the Ad is expired
12488 Geo Targetting Ads not editing properly
12487 affiliate ad type not seen in select box in Create Ad view ticket #5155
12468 Edit Ad page - Geo Targeted Ads when edited also show Social As checked
12467 Edit Ad Page forgets Ad type apparently
12454 after click on 'buy now' all the other buttons should be non-clickable see desc
12453 not working for full discount see screenshot
12451 duplicate payment methods appending in payment select box
12450 Authorise payment form validation
12448 "Number of renewal days" label not changing when slabs selected
12447 amount not applying when using slabs