Its been a while since we wrote the last blog post about SocialAds 2.5 & upcoming features. Last time we just showed you a little bit of what was planned. This blog post will take you through the rest of the planned features. We got very tied up with a lot of releases & klind of forgot to get this out ! SocilalAds 2.5 may come any moment now .. while you wait, here's what to expect :)
Pricing Options
This options will provide more flexibility...it lets you select the pricing options to be shown to the advertisers when creating Ad..in case you want to stick up to the old SocialAds you need to select the Per Click and Per Impression and not the Per Day.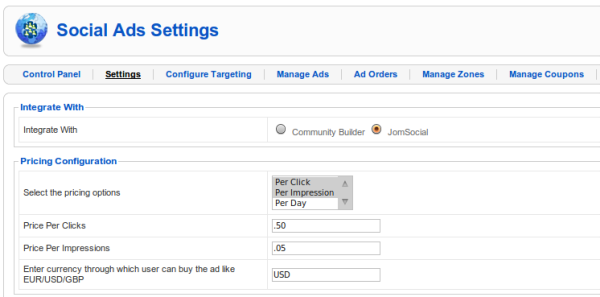 Layouts
You must be wondering what these layouts are..Layouts introduce full flexibility in how you want your Ads to look. Layouts are nothing but the templates for the Ad installable via plugins...so there can be a number of ways in which you can show the Ad.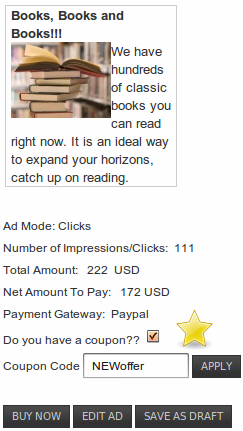 Coupons
Want to give out promo coupons to promote advertising on your site ? Want to offer a flat 50% off on advertising for a month ? Now you can :) SocialAds 2.5 will come with a full blown coupon manager letting your create an amazing variety of coupons ! Here's how it would look on the frontend.. You want to see the backend too ? No way.. That's a closely guarded secret.. If we see something like about 50 comments on this blog.. we'll think of revealing it ;)
Ads for Everyone - SocialAds .. not just Social anymore...
With version 2.5, we plan to make SocialAds an Advertising solution not just for Social Networks but for any kind of website built on Joomla. "Social Targeting" with CB/JomSocial shall remain our forte, but with the introduction of Guest Ads in 2.0, SocialAds it already allowing for Ads not specifically targeted at User Data. With Zones in 2.5 SocialAds already has the power & flexibility needed in a powerful Ad Server. So now you don't need to have CB or JomSocial to get the simplicity & power of SocialAds to your site !