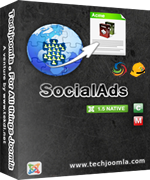 Hey Folks ! We have some great news for all those CB fans out there !
SocialAds 2.0 with support for Community Builder is here ! Now CB based networks will get the ability to use this easy to use tool to monetise their sites.  I am sure this announcement will bring smiles on a lot of faces ! The Beta testing period was extended to ensure that most issues were reported & fixed but its finally here .
Besides the added support for CB, SocialAds 2.0 packs loads of new features as well as tons of Bug Fixes..
New Features include :
1. Community Builder Integration Option
2. Charge per day
3. Fuzzy & Exact Mapping option for Text fields & Targeting Engine Revamp
4. Quick Stats in the Approve Ads view
5. View Ignores & Ignore Stats
6. Offline Payment methods
7. Guest Ads
Read our Blog here for more details on how all the above works & looks !
Read on for the full change log & Upgrade instructions , please read on. The release is available to all subscribers in the My Subscriptions area. P.S. Watch out for a Blog later this week about SocialAds 2.5 Beta ;) Yes 2.5 !
Changelog ( From 2.0 Beta to 2.0 Stable)
#4214 - Grouping of the fields in the admin settings view
#4175- Display msg on targeting form..indicating a msg for "blank targeting"
#4174 - when undo ignore the ad is not shown instead box for thanks for ur feedback is shown
#3980 - msg "File Uploading Please Wait..." make language constant
#3796 - remove the styling for the buttons from socialads.css file
#3795 - Number of days not calculated when JomSocialPoints gateway is selected ( NaN issue)
How to Upgrade
Simply install over the old version.