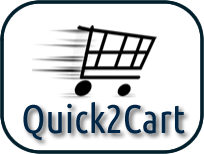 Quick2Cart v2.0 beta 2 is here for testing with the greatest features ever!
We are releasing a Beta version of Quick2Cart today as a free download for all to test. This version introduces loads of awesome new features. We invite you to download this release & take it for a test run. A New Beta forum has been opened up for you to report any issues you might find.
Here's a Quick look at the highlights of this release. There's a lot more than these inside the box ;)
FlexiContent Support
Basic Native Product Manager
Multi Vendor Support for Native Quick2Cart Product manager ( See below for full details of the Multi vendor features)
Social Integration with JomSocial - Activity Stream integration, JomSocial notifications integrations & ability to sell products from JomSocial
One Page Checkout
JLike Integration for native Quick2Cart Products
Rich Product Display modules
Multi Vendor & Multi Store
Quick2Cart 2.0 introduces Multivendor support for for Native Products ( Support for Joomla Content, Zoo, K2 Flexi content for Multi Vendor will be introduces in future releases)
Using this feature, Vendors can create one more of their own stores & sell products. The Admin can choose to charge a comission on all sales. Store ownes can also create their own coupons. Users can buy products from one or more stores & checkout in a single step.
Screen Shots

Checkout out many more screenshots on our Facebook page.
Full Changelog
Feature #17774: FlexiContent integration
Feature #13973: SKU as Product field
Feature #17768: Basic Native Product Manager
Feature #16415: Multi Vendor support in Quick2Cart
Feature #17767: One Page checkout
Feature #17773: Bestsellers Module, Recently Added Products module, Best Seller Stores module, People who bought this bought Module
Feature #18263: SocialAds Promote plugin for products
Feature #18264: Jlike integration for product
Feature #18954: vanity url for store
Feature #19061: order Invoice
Feature #19163: show currency symbol in place of currency code on frontend
Feature #20480: Coupon Manager for Store owner
Feature #20481: Selling products on Jomsocial Profile
Feature #20482: Jomscoial Activity stream integration
Feature #20493: New look and feel for Admin Dashboard
Feature #20511: Store list Module
Feature #20512: Quick2Cart Category list Module
The Beta is free to download. Please go to the above link to see instructions on how to download the copy & test.