People you May Know from Facebook comes to Joomla, CB & JomSocial !




Techjoomla Extension News



We have just released a smashing module for CB & JomSocial that will give you the Facebook 'People You May Know' feature for your CB & JomSocial based Social Networking Website.


JomSocial People You May Know module intelligently

shows you people you are most likely to know, by searching common friends between your friends !



The module suggests you those users who lot of your friends have as a friend, but isnt your friend yet. Based on the logic that a lot of of your friends know him, you are likely to know that person too !
Similar to People you may know on Facebook.


This module needs the JomSocial Extension to work. There is also a CB Version available here.

A Must have for JomSocial based Social Networking websites.

Subscription Options :
6 Months 30$  |  12 Months 55$

CB Demo | JomSocial Demo | Buy CB Version | Buy JomSocial Version
---
JS Suggest & CB Suggest V1.3 Out
Techjoomla Extension News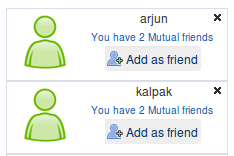 We have released version 1.3 of the CB & JomSocial Suggest Modules. V1.3 brings a completely Ajaxed CB Suggest module along with the Ignore feature that has been there for sometime in the JomSocial Versions. Now both Cb & JomSocial versions support the following features.
Fresh New Facebook like layout
Allows you to control number of suggestions to show.
Allows you to ignore suggestions that you dont want shown again.
Allows you to Add Friends from the module itself.
Ajax refresh updates module instantly as soon as you add or ignore a suggestion.
Matrix Layout Support. Show the suggested users in a single or multiple rows & coumns. * A bug in JS Suggest in this is also resolved.
Users having an active subscription can download the update by logging in to their accounts. Not Have them ? get them at the links below.
CB Version | JomSocial Version

---
JBolo 2.0 Released
Techjoomla Extension News
We're glad to announce the release of JBolo! version 2.0. This version fixes several long standing bugs, especially those related to functioning on (our favourite browser) IE. Some other bugs have also been resolved & some features have also been introduced. A few small bugs reported by some JBolo early adopters have already been fixed in the SVN & will be out in ver 2.1 that will be out the next week.

Read the JBolo Blog for full details.
We are now on Feedburner !
Get instant development Updates &know what our Developers are working on, by subscribing to the Techjoomla Extension Blogs Feed.
Know as soon as a new release is out by subscribing to the Extension News feed.
http://feeds.feedburner.com/techjoomla/extnews
Discounts Galore !
Offers & Promotions
As you know all our newsletters come with a special Promo code for you get a chance to get our products at huge discounts. So if there are any Techjoomla Products you havent got yet, this is a good time !
Discount Code : PREMON09SE