J!MailAlerts. Email Alerts for Joomla is here. & its completely free !
How many times have you had the problem of increasing the 'stickiness' of your Joomla site ?
We saw the major Social sites of the day like LinkedIn & Facebook, were achieving this with great effectiveness by sending personalized periodic alerts about that was happening in their community to their users.
If the user is not coming to your site,go to him with your content.
This is exactly what J!MailAlerts will allow you to do !
What's more , its completely automated. Install & configure various content plugins available ( yes you can add alerts for virtually any extension using plugins !),  Design your Alert Mail using a WYSIWYG Editor, setup a cron job & you are done ! Then just relax & watch how users keep coming back to your site !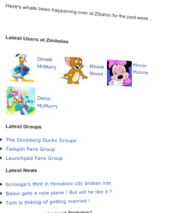 Additionally users can chose to opt out completely or set alerts frequency to weekly , fortnightly or monthly, plus customize what they want in the Alert Mails.. their own site digest delivered to their mailbox. & all of that without you having to move a finger !
Download it for Free right now ! If you prefer to have fast support via our Support ticket system rather than community based support at the forums, we also have a commercial option for you. Buy it here.
Enhance your Alerts with our JomSocial plugin value pack !

This amazing value pack adds some great additions to content that you can send as an Email Alert. It includes the following plugins. very much recommended for JomSocial based Social Networks if you are looking at sending Facebook or LinkedIn like alerts
JomSocial People you may know plugin
JomSocial Network Suggestions plugin
Latest Photos in JomSocial
Latest Videos in JomSocial
Latest Groups in JomSocial
30$ 6 Month Subscription / 55$ 12 Months Subscription

New in the Labs !

Social Ads for JomSocial..
Its finally in the Labs ! With Social Ads for JomSocial, you can create Facebook like demographically targeted ads to show on Your JomSocial Site. This extension allows advertisers to create their advertisement , Target the users they want to show the advertisement to, Decide if they want to pay by impressions or per click, Pay online & get the advertisement started up right away !
More News

Blogs you might have missed !

Thats it for now folks ! Get the new extensions while they are hot !