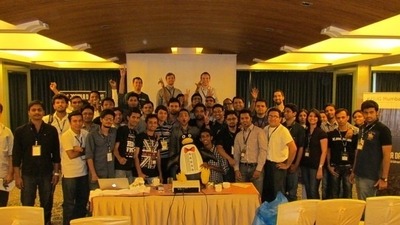 Team Techjoomla was at the Joomla Day India (Mumbai) this weekend, and what an event it was! We had Ryan Ozimek (Ex-President, OSM), David Hurley (Development Team Leader) and Ofer Cohen (OSM Board Member) fly in from USA and Israel. Additionally, more than half a dozen speakers from various parts of India made up for an exciting lineup of talks for both days. We also had an enthusiastic audience from several parts of India, and all of them were more than willing to soak in every bit of the knowledge the community wished to impart! This also marked the alpha release of the JTicketing app for Event Managers. Read more about it at the end of the story. The Joomla Handshake #jhandshake too was ideated, you can view the video on Ryan's Vine.
Ryan, dressed in a traditional kurta started off with the keynote which was informative and not to mention, entertaining. The mammoth 200 slide presentation was just short of a 25fps movie and covered Ryan's role as an ex-president, the Joomla community in general and of course a customary roundup of Joomla! Rocks! David was next, with a talk about where we are heading with Joomla 3, and all the great things we can expect - languages and ACL included. David was followed by a pre-lunch session from Irfan Musani on migrating a Joomla 1.5 website to Joomla 2.5. The lunch was a chatty affair with all the attendees mingling and getting to know each other.
Next up was Parth, explaining to the community how they can save scores of hours by integrating the common payments API developed by Techjoomla. The fact that most Indian gateways are covered was very interesting for the guests, and there was significant interest to know about this project, which can be downloaded from github. Puneet from PayPlans took stage next and delivered a thorough roundup on the capabilities of PayPlans. Ajay Lulia was next, with his presentation on Joomla Security that touched upon various aspects like server security, software upgrades and choosing the right Joomla extensions. Kapil Sahu did the last presentation for the day - blogging with Joomla where he earned the audiences' sarcastic ire for accidentally saying 'Joomla is nothing without its extensions' :) The day ended with an open discussion to identify the areas the Indian Joomla community could help in. Localisation - creating Indian language files for Joomla was identified as the most important need and a lot of volunteers came ahead to help with localisation.
Day 2 started with Ofer Cohen enlightening the audience on how and why they should be contributing to the Project. The highlight of Ofer's talk, I felt, was his example of how he brought in an interpreter, and made the Joomla Day Israel 'accessible' to deaf attendees. This I feel was in important step towards increasing the reach of the Project. Ofer was followed by Saurabh Shah speaking on Joomla site optimisation, and I chipped in to show the audience a quick demo of optimising the Joomladay India site. Next, Parth did another talk - this time educating the audience on how they can make money out of their Joomla sites. Using extensions like Social Ads and the soon to be released Quick2Cart Joomla site administrators can build a self-sustaining and revenue generating website. Bhavesh followed up the money making session with his energetic talk on making most out of web marketing. He talked about several resources that can help you create content and design pages in such a way as to get the most traffic, and get most out of your traffic. This was followed by lunch, and the new attendees from the audience got to know each other better.
Shyam from Ready Bytes kicked off the post lunch session with the confession of his deep love for Joomla, and oh he also spoke on how to become a Joomla entrepeneur. I was next with a use-case rich presentation of the REST api and the various ways we have been using it in over a dozen projects. The api is available on git hub. The last day was rounded off by a encouraging track by Ryan, David & Ofer. They discussed everything under the Joomla sun - contributing, their experiences and even a sneak peek into Joomla 4.0. A brief photo session followed, and we downed the curtain at around 7pm.
All in all, the Joomla Day was a rocking experience. I was very happy to see the attendees curious to know about how much and how easily they could contribute and make a difference. In fact, as I write this blog, a few of the enthusiastic particpants are already working on the Marathi & Gujarati languages! Joomla Rocks!!
A hallmark of the event was also the launch of the JTicketing Android app for event Managers. Along with 'apptitude' we created a mobile app that was used to scan and verify the tickets of all entrants. We also sent them a welcome email once they were checked in. Neat!
Here are a few more photos from the event