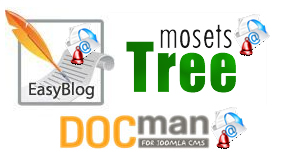 More Alert Plugins for J!MailAlerts are here !
We have just released plugins for DocMan -the most popular document management system for Joomla, Mosets Tree - the Directory system that the JED runs on, & EasyBlog - An amazing blogging system for Joomla. With this set of releases , the plugin tally for J!MailAlerts has gone up to 17 with 7 free plugins, 7 paid plugins as part of the JomSocial Plugin Pack & the 3 new Plugins released today.
The Docman, Mosets & EasyBlog plugins have been released as paid plugins with 1 Month Support Subscriptions & priced at an affordable 7$ a piece.
Also please note that from now on all Plugins for J!MailAlerts shall be sold as 1 Month Subscriptions only. Current users shall not be affected by this change.
All Plugins support user Preferences & allow them to set Number of Alerts & Categories that they wish to receive Alerts About.
Another update that we have for you is that we are working hard on getting the JomSocial Group Activities plugin ready & also getting a CB plugin pack for CB Alerts ready for release.