You must have been thinking that we have been pretty quiet lately..
Well.. Not quite..

We have been getting hoards of feature requests & reports for Jbolo & we have been working hard on getting all these in releases as fast as possible. This is an overview of what we have been upto & what you can expect in the next releases.
Continue for Full details.
New Features for JBolo!
Here is a preview of the features that will be present in the next version: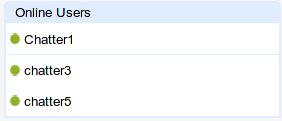 1. Auto-Refreshing module.
The Module is now auto-refreshed using AJAX.
So, everytime a new user logs in, you don't have to refresh the whole page to get the updated list!
2. Integration With CB Super Activity Module from Axxis
When we created the Facebook chat bar mode of JBolo, the activities tab was present only in JomSocial version as CB has no native activity support. So we contacted Chris over at Axxis & he agreed to tune his development so that his Super Activity Module could be integrated in Jbolo!

So in the next version, Jbolo! will support CB SuperActivity in Facebook Bar mode.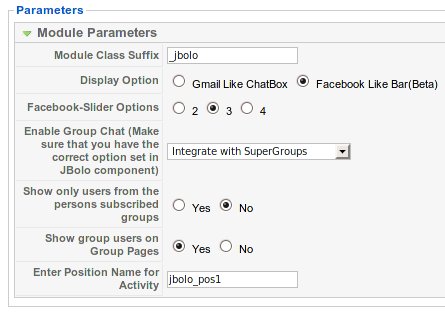 3. Groups Integration
Now you can use the Groups Integration feature to show only a particular group of users to a particular users.
There are two options present:
Either you can show the users from the persons subscribed groups
OR
Show the Group users only on Group pages.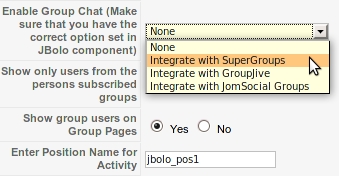 You can integrate groups with the following three components:
Supergroups
Groupjive
JomSocial Groups