1 minute reading time
(273 words)
J!Bolo 2.9.4 with IMaqma HelpDesk integration as Live Chat!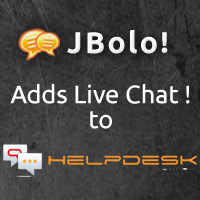 We are pleased to announce the immediate availability of JBolo 2.9.4 with a great new feature that allows customers of IMaqma Helpdesk to add live chat capabilities to their Support system with JBolo. JBolo integrates tightly with IMaqma & provides the following features :
Ability for Support Users to Initiate a chat with Clients from a individual ticket or ticket list view
If the Admin allows it , online users can also contact live Support users
Support Users can archive chat logs as comments on existing tickets for future reference
To read the full documentation on how the integration works, click here. For our custommers we have a special Offer from IMaqma. use the coupon code LiveChat to get 10% off on the purchase of HelpDesk.
Besides this new feature, JBolo 2.9.4 is fully compatible with Jooomla 1.5.25 as well as Joomla 1.7.3. Plus JomSocial 2.4X is also fully supported. Besides these, there are a number of fixes that you can see in the full change log.
---
6078 FIXED: JS raw view is broken for language strings like this SENT AT=Envoyé à: %s
6267 FIXED: Fatal error: Cannot access protected property plgCommunityplg_js_jbolo_online
8037 IMPLEMENTED: Add Missing language strings for frontend and backend for component and module
8166 FIXED: Malformed links on chat bar for JomSocial integration with SEF on in some cases
8493 FIXED: Clicking on avatar in chat window shows 404 in case of "Jomsocial integration" and with "AceSEF" in some cases
8579 IMPLEMENTED:Jbolo - Helpdesk Component Integration
8597 FIXED: Sometimes just blank page loaded when chat bar activity is disabled
8775 FIXED: Clear conversation does not work properly reproduces same messages & sound again
8843 IMPLEMENTED: Current configuration for JBOLO should be preserved in upgrade process