As part of our Initiative to involve our custommers in our development process, here is another Subscriber Connect update on Invitex. We have another awesome release of Invitex planned out for release over the next few weeks. We have listened to your feedback in planning this release & hope you will be as excited about it as we are !
The Subscriber Connect Blog & Newsletter Series helps us start a conversation & listen to ideas & feedback & help come out with better releases. We hope this edition of the Blog detailing some of the expected features in Invitex 2.8 will invite lots of feedback, suggestions & feature requests. As always, we will try & get what we can in this release itself .
We have just begun the development of Invitex 2.8 which includes a lot of features that you have been asking for ! Lets take a quick walk through these features. We would like you to join the discussion by commenting on this blog. We also have some specific questions for you & it would be great if you could answer those for us !
Planned Features for Invitex V2.8
User Information Plugin for Rich Personalised Landing pages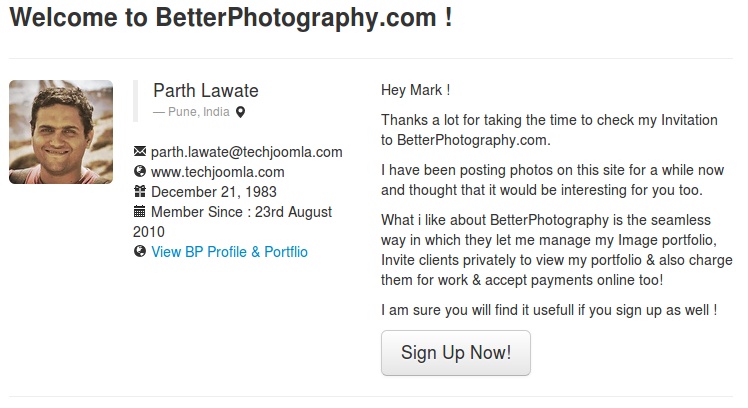 You already know that you can create awesome custom landing pages for Invitex using a Joomla Article & any custom content you want as well as any content plugins to add that Zing to it. Now with this User Information content plugin, you will be able to make these pages even more awesome !
Social Network Batching
Many Social Networks have limits on the number of Messages or notifications we can send using their OAuth APIs. In order that these limits are respected & at the same time a seamless experience is given to our end users, we are introducing batching in making these requests. This means that i can invite all my Facebook friends in one go. However, the application will send these requests to facebook in batches so that your app doesnt hit its limits !
Let Guest send Invitations with Captcha protection
This is a feature a lot of you have been asking us for.. For quite a while now.. This is something that has been requested a lot especially with Invitex Anywhere.. For instance why do you need to login to Invite friends to view an Article ? Makes perfect sense !
In the Invitation Flow, show Selected contacts in a separate Tab
If you are like me, you will probably have thousands of contacts in your gmail or facebook. With so many contacts, it becomes hard to remember which ones you selected to Invite to the site. This feature will show the selected contacts in a separate tab making it much better from a usability perspective.
Ability to redirect to Invitation on Login with the ability to Skip
Sometimes, your users need that little nudge to remind them to send out a few invitations. This feature will allow you to redirect users to the Invitations page immediately after login & ask them to send Invitations. They can skip this ofcourse. Settings will also allow you to let this happen every time or Randomly.
Support Virtuemart as the Registration provider
For those of you using Virtuemart, now Invitex will be able to track registrations via Virtuemart as well !
Rewards for Invitations Sent
Nothing like a nice reward to get your users to send some more Invitations ! Earlier, Reward point integration was only available on successful Invitations. Now give out rewards for just sending invites as well !
Awesome Intelligent Notifications - With Both Standard Email & JS Notifications Support
Now notify your users via email when a Friend joins the site or when an Invitation is accepted. You have the option to use direct email notifications for this or use JS Notifications if you have JomSocial.
Activity Stream Integrations for CB, JomWall & JomSocial & Social Push to Broadcast
Wouldnt it be nice if we could send a Activity stream push to the Effect "Parth Just invited 50 friends to Techjoomla using the Invite friends tool & Earned 100 points !" Well now this will be possible. We are doing activity stream integrations for Community Builder, JomSocial & JomWall for this.
Plus with a Broadcast plugin, the same note can be shouted out to Facebook, Twitter & LinkedIn as well if you have broadcast & the user has connected his accounts !
Better Bootstrap utilization and best UI possible
We are doing another rethink on the Invitex frontend UI. We know we havent been the best at this do date. But Bootstrap has helped make our Job much easier. We have many custommers with some awesome creative minds & we would like you guys to Jump on this & give us your suggestions for an awesome frontend UI with bootstrap. Suggest away ! Feel free to attach mock ups if you want to in the comments section.
What else do you want Invitex to Do ? What should be our next steps ? Tell us !
Don't forget to comment & give us your feedback !