The release of the latest version of JomSocial,V.1.8 codenamed "Wazi" (Swahili for clear, openness and clarity), opens up a whole new vista of possibilities for the average JomSocial based Social Network. I bet you have already have heard about what features have been packed into this new release.There's the amazing new Social Events Management system, then a bettered activity stream & much enhanced media handling, Ability to edit walls to name a few features. What we shall also be looking at is how this affects you & how it affects our extensions.
From my perspective , the announcement of JomSocial going GPL with this release holds much more weight than all its new features combined. On one front it proves that quality commercially supported extensions can be built & sustained while being licensed under GPL. Secondly, the best part of this is that you can now install JomSocial on any number of sites, though you may only request support for one domain. So now you can get all those cash strapped projects up & running !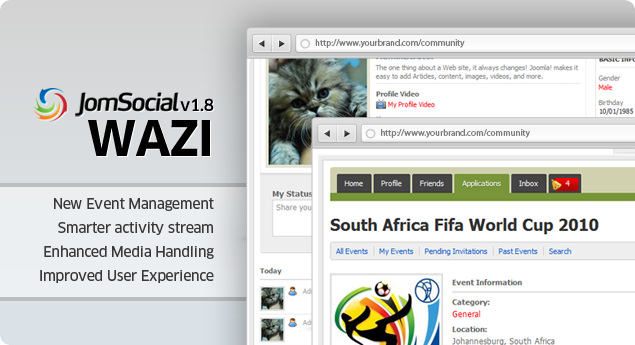 What Does the release mean for you ?
Use JomSocial on any number of Sites
With JomSocial Going GPL, you can use JomSocial on any number of sites without buying an additional license.
Great Events System
Finally there is a full fledged Social Events system available for Joomla via JomSocial. Which means you can have your users create events, take in registrations, invite friends etc. Plus the system is privacy aware.
Video Profile, Set Photo as Profile Pic, Vanity URLs
Now you have your very own video profile in JomSocial & also set any Photo in your Album as a Profile pic easily ! If you have SEF urls enabled, then you can have your users have vanity urls too !
Bettered Photo Management & Navigation
Now you can manage your Photos better & also navigate them using arrow keys
Enhanced Application Management
Now JomSocial sports a enhanced applications management console with drag & drop
Read the full press release on JomSocial's site here.
What Does the release mean for us ? Which in turn also affects you..( Development Angle )
ZEND Framework Adoption
From the development perspective, one major shift is that JomSocial since this release has adopted the ZEND framework. Though the full implications of this haven't been disclosed yet, but based on our experience with ZEND & Magento development we can say that this definitely opens up a host of new customization & development possibilities for JomSocial.
New API functions & the new Forms API
Now the JomSocial API extends to the new Events frame with events like onEventsCreate, onEventsUpdate, onEventsInvited, onEventsRequestInvitation to name a few. Another interesting call is onGetUserInfo which is called everytime user information is requested .
The best news for JomSocial developers is the new Forms API which adds the functions onFormDisplay (When a form is being displayed) & onFormSave (When the form is being saved). This means its super easy to modify JomSocial forms now without touching any template code or writing crappy system plugins. You can expect this change to affect new releases of J!PHPlist, InviteX as well as J!MailAlerts.




How are we reacting ?

Ensuring compatibility

New releases of some of our extensions were released yesterday itself to ensure complete compatibility with JomSocial 1.8.

Enhancing Future releases

All our new releases will utilize the new framework abilities to provide the best performance & features to you

JomSocial Migration Service Launched

Now with JomSocial going GPL, we are expecting a lot of NING & CB networks to make the move. We are looking at using our expertise to help these migrations go smoothly & have thus launched a migration service, details of which can be read here.

Releases of SocialAds , J!Growl & New Plugin Packs for J!Mail Alerts delayed slightly

In order to ensure compatibility & take advantage of the new features, we shall be delaying the above releases by upto a week from the official release dates

Well thats it for now ! Watch out for our Extension Blogs & News for updates .