For the past few weeks we have been working on a new Application that will make integrating you JomSocial community with the 3 Big Social networks viz. Facebook, Linked In & twitter much easier. A Big complaint from a lot of our customers is that very few users ever update their JomSocial Status. They prefer to udpate the status over at Twitter, Facebook or Linked In. When one of our customers came in looking for such a solution & another quickly followed, we decided to develop a product out of it..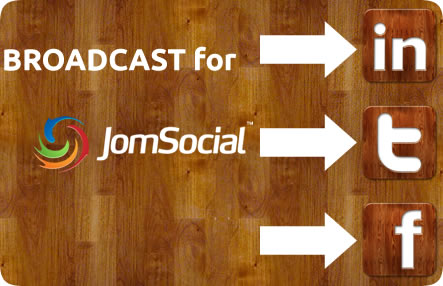 On taking end user feedback, we found that users hate to go to so many sites to update their status. They love the way facebook & twitter can integrate with each other - That is when you update twitter updates automatically.. What would be best from their perspective is to be able to Update their JomSocial status such that all the other networks get updated as well. If they could do that , they would spend more time on a JomSocial network. What would be even better is if the status from the other networks was synced with JomSocial as well...
After a few weeks of work, we have JomSocial Broadcast for you.. It does the first job.. that of connecting to the networks via OAuth & posting to all of them very well.. While the reverse sync process is still experimental. We take this opportunity to bring it before you & take your feedback before doing a public release.
Broadcast for JomSocial
What is it ?
Broadcast for JomSocial shall be a JomSocial Application / Module that will let any JomSocial user connect his Twitter, Facebook & Linked In ( more networks are planned later) Status updates from your JomSocial site itself right from the status update box.
It supports 2 kind of Updates
A. From JomSocial to Twitter/ Facebook/ Linked In - This section is stable now & already being used on a few customer sites. 
B. From Twitter/ Facebook/ Linked In to JomSocial - This works well but is to be treated as a experimental feature for now.
How does the user use it ?
Its super simple. All he has to do is log in to his JomSocial Account, click on the Broadcast icons for Facebook/ Twitter / LinkedIn & allow the site application ( via OAuth) to post to the Social Network. The site admin has to simply setup a Facebook & Twitter application ( Simple instructions included ) which as you know is a great traffic draw in itself !
Once all the networks he wants to link are linked up, he just has to update his status from the JomSocial status box & voila .. all connected networks are updated !
Sneak Peak Screenshot

Let us know what you think !
Whats planned in the Future
1. Support for more networks
2. Support for Activity Stream & selected activity Sync
3. Stabilizing the reverse sync.