JTicketing 2.6 brings some fantastic new features to the Joomla Event ticketing space. We have introduced a set of new filters on the Events page in a more compact format. 
Advanced Google Analytics Ecommerce tracking has been integrated to help you improve your conversion rates & track sales of tickets & events directly in Google Analytics. The Event duplication feature allows you to quickly copy events. This is very useful when you need to set up events that are very similar. 
Buy JTicketing View the Updated JTicketing demo
Besides this, there are quite a few improvements and bug fixes that have been shipped. We encourage you to upgrade as soon as possible!  Read on for the details and for the complete changelog.
New filters on all events page
If a site has many events, it can be overwhelming to make a quick search for the events that we have been looking for. We have introduced brand new date filters for all events page. Site visitors can easily filter events based on dates as to when the event is set to take place. For Example, whether the event is taking place today, tomorrow or next month.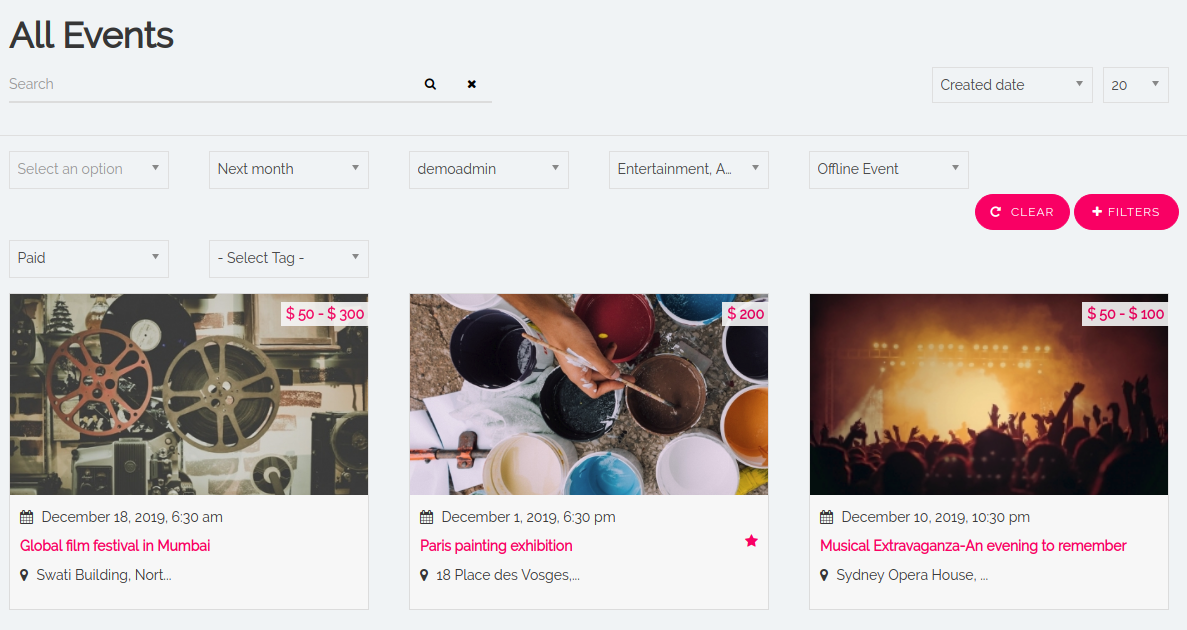 Besides this, we have introduced an option to filter events by tags. Users can also filter events as paid events or free events. Site administrators can either set primary filters, secondary filters or both.
Quickly create copies of Events
With the event duplication feature, Site administrators can save precious time to create similar events.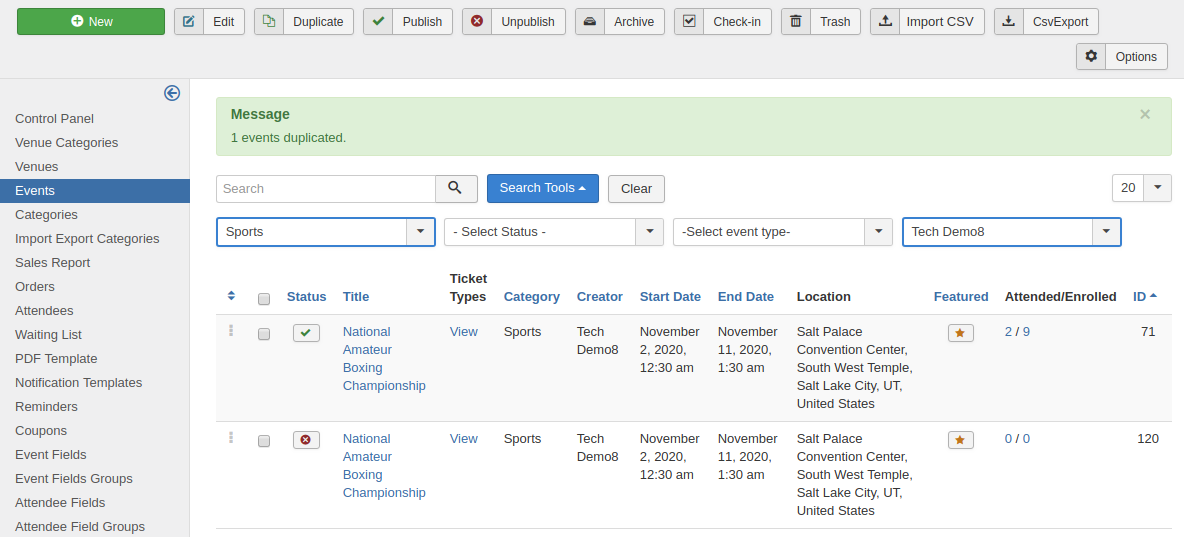 Google Analytics integration for online payments
Google Analytics is a free digital analytics software that gives you insights as to how visitors find and use your website.  
WIth JTicketing 2.6, we have introduced the Google Analytics plugin for integrating all eCommerce reporting capabilities powered by Google Analytics. The site administrator will have to add their Google Analytics property ID in the plugin. This feature will enable site administrators to view e-commerce reports for events in Google Analytics. Note that this feature will only work for online payments. Site administrators can easily track checkout behavior and product performance in Google Analytics.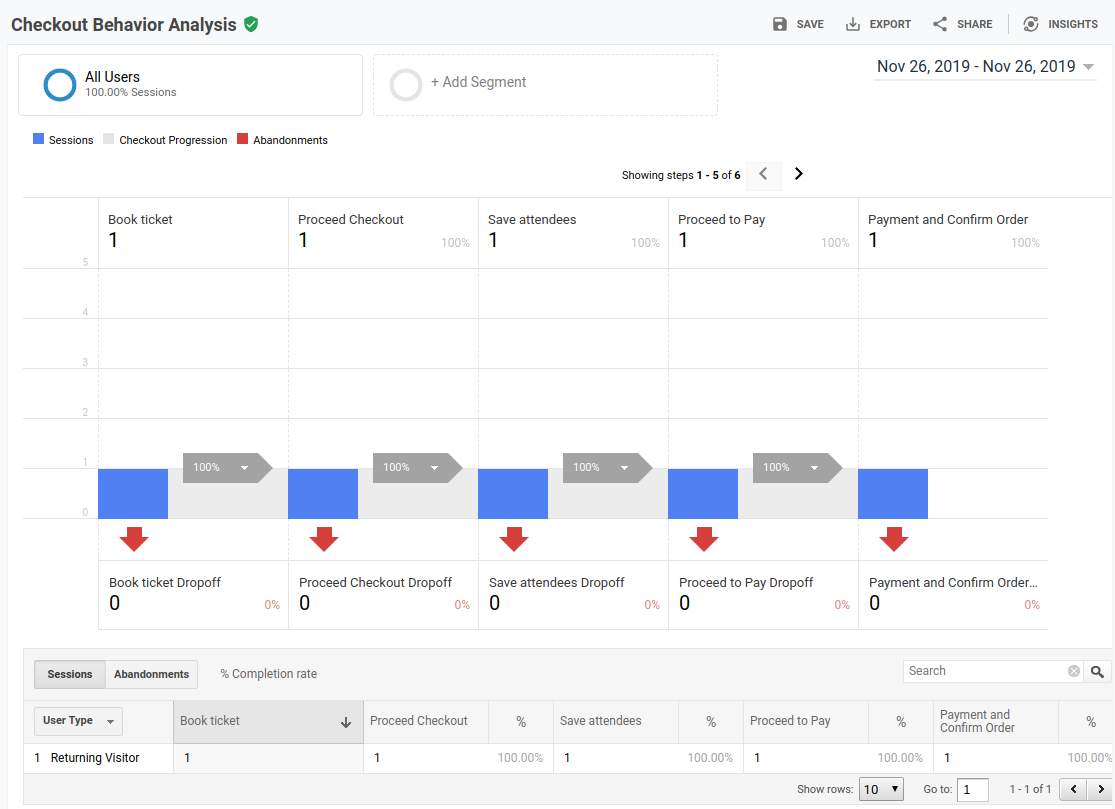 Complete Changelog
Features (4) - 
Feature #145689 - Native JTicketing event - Save as Copy for Events
Feature #148013 - Native JTIcketing event - Refactor event import in JTicketing
Feature #150318 - eCommerce Tracking implementation
Feature #146883 - Native JTicketing event - All Events view, added new filters
Fixes (16) - 
Bug #149503 When Clicking on Attended or Enrolled count on the Event list view, The event filter doesn't get selected on the Attendee List.
Bug #149597 Admin > orders list view> A person with manage permission not able to see an orders list view
Bug #150117 EasySocial integration - If ES event form is having multiple tabs, getting div mismatch issue and layout is breaking
Bug #150219 Checkout - Single payment - Payment gateway HTML is not getting load
Bug #150606 Coupon is not saving the price or percentage in decimal
Bug #151096 Load bootstrap method not getting applied to buy ticket module
Bug #151140 Non-bootstrap template issues.
Bug #151158 JomSocial Event - On order complete getting error. fixDb function is not defined
Bug #151232 Frontend> Paid Event> Unable to move forward after clicking \Proceed to Checkout\" button."
Bug #151293 JomSocial - auto mark buyer as going - is not working
Bug #151315 EasySocial app - My Tickets - View ticket link - Displaying fatal error
Bug #151319 If the address field is hidden from the billing information, login as a registered user and billing information are displayed on the same page
Bug #151337 JTicketing configurations - Custom date format - On Event detail view - custom date format is not displaying correctly
Bug #151728 Attendee list view - the guest attendee - the Only first name of attendee is getting displayed
Bug #151780 front end > JomSocial > in print page displaying unwanted error
Bug #151782 ES > while booking ticket displaying an unwanted message