Creating  2Checkout test account
You may open a free development only account for testing and development purposes at the following URL.
https://www.2checkout.com/signup
When opening your development account please select Mailed Check as the method of payment for the signup fee.
After you have completed your signup please email [email protected] with your vendor account number so that
it  may mark the account accordingly and prevent the account from being accidentally closed by our Risk Department,
as they will close any unpaid accounts unless marked otherwise.
Please note that developer accounts can never be paid out so any live test sales will need to be canceled immediately
after being placed.
Configuring account


Now enter the Sellar ID and secret word
And Select  Demo Mode  as yes if you want  test transaction to no if you want to  live transactions.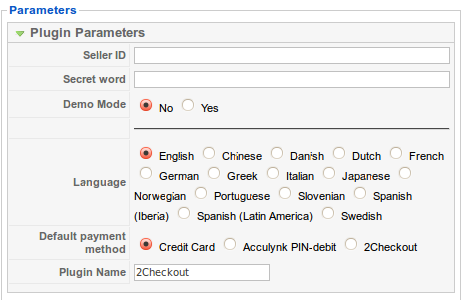 Now from frontend create test ad and enter credit card details
Demo credit cards

370000000000002 American Express Test Card
6011000000000012 Discover Test Card
4007000000027 Visa Test Card
4012888818888 second Visa Test Card
3088000000000017 JCB 
38000000000006 Diners Club/ Carte Blanche