Here are the steps to be followed:
1. Enabling Recommend Friend plugin:
  You need to enable the "Recommend Friends" community type plugin in backend plugin manager.
2. Showing "Recommend Friends" link on Friend's profile:
  Jomsocial : -  Embed the Widget in your Template / Extension code via a Template override:

    Here is the widget that you need to copy and paste (ideally this widget should be placed in a template override for the profile page in JomSocial):           
<?php /*start of code to integrate recommend plugin*/ ?>

<?php if($isFriend){
$profileid = JRequest::getVar('userid');
$userid = JFactory::getUser()->id;
?>
<script type='text/javascript'>
function loadRCF(sender, reciever) {
	var ajaxCall = 'jax.call("community", "plugins,recommendfriend,loadRCF", "' + sender + '", "' +reciever + '");';
	cWindowShow(ajaxCall, 'Do You Wish to Suggest Friends to this user ?', 565, 400);
}
</script>
<div class='btn btn-primary' onclick="loadRCF(<?php echo $userid ?> , <?php echo $profileid ?> )">
	<span><?php echo JText::_('PLG_RECOMMENDFRIEND_RECOMMEND');?></span>
</div>
<?php } ?>
<?php /*End of code to integrate recommend plugin*/ ?> 

 For more information on how template overrides work check :  http://docs.joomla.org/How_to_override_the_output_from_the_Joomla!_core

 If you are using Jomsocial 2.8.x then you need to ovverride com_community/templates/your_template/modules/profile/userinfo.php file.

 Else you need to override template "profile.header.php" of com_community,

 After overriding ,You will get the Recommend Friends link on profile page of the user who is your friend.Have a look:

 Community Builder :  We give the "recommedfriends.zip"  with the People suggest package. You will find it in "YOUR_JOOMLA_DIRECTORY/components/com_psuggest/CB_recommedfriends"  folder. You need to install this plugin zip  using Community Builder Plugin installer
3. How it will look
Here is the Quick look of Recommend friends view when integrated with Jomsocial,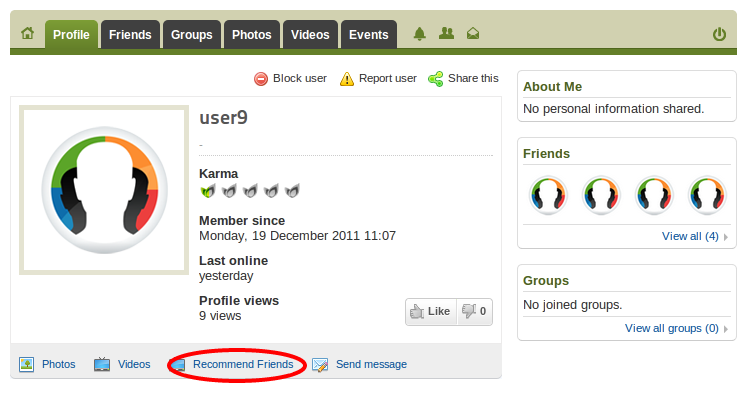 When you click on the "Recommend friends",a popup will open.There you will see the list of users who are your friends on the site,but not of the user whose profile you are viewing.