Email Beautifier Template List View
In order to view template list go to Manage Templates menu in Email Beautifier component backend. You will find a list of the templates that you have created.

Create new template
In order to create a new template go to Manage Template tab in Email Beautifier component backend. Click 'New' on the toolbar.
Clicking on new will open page a form as shown in below screen-shots.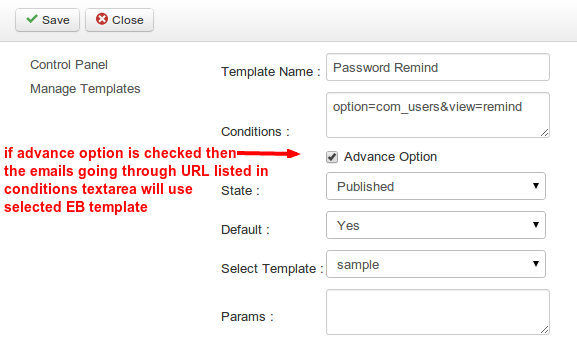 Template Name
Name for the template type. e.g. Jomsocial will be the name when the template is created for JomSocial mails.

Conditions
Select components for which this template should be used.
By default, advance condition checkbox is unchecked and condition field provides a multi-select list of components available on your site as shown in below screen-shot.

Check advance option, if you want to enter a customised URLs. Enter each URL condition on a new line.
eg. option=com_XXX&view=VIEW_NAME&layout=LAYOUT_NAME&task=TASK_NAME&action=ACTION_NAME . 
State
 Published/Unpublished Template
Default
If set to Yes, if URL specific template is not found then default template will be used for that component. 
Select Template
Choose the email template from the list of available templates. You will see the list of sample templates you have added at your_site/components/com_emailbeautifier/templates. Selected template will be loaded in template editor and CSS in CSS editor. These sample templates will be used for creating the new template. 
Configuring selected Email template
This is where you can design your email template. Click on the image below for a better preview.
There are 2 editors. One where you can design your email template and the other editor is for CSS.
You can make use of tags like [ SITELINK] [SITENAME] [TIMESTAMP] [CONTENT].
Make sure you include [CONTENT] in your email template. Otherwise, your template won't be saved.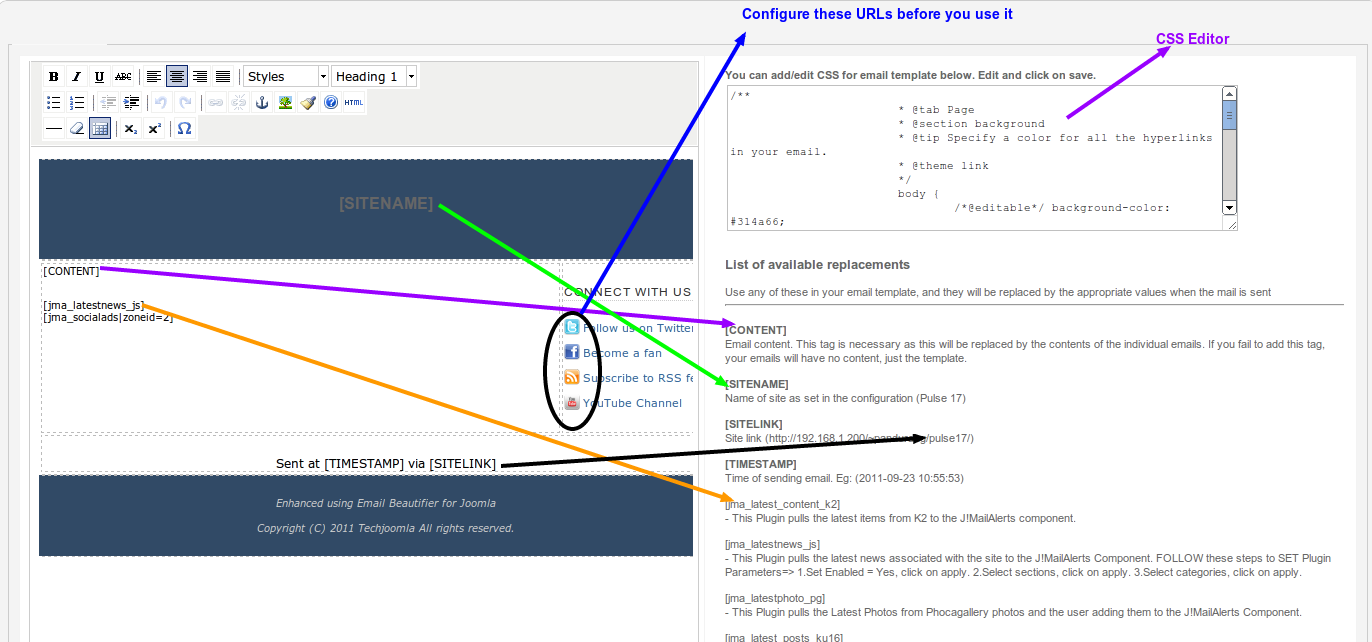 Support for J!MailAlerts Plugins & SocialAds 
The Email Beautifier system supports J!MailAlerts Plugins including the SocialAds one. This means you can add dynamic content to your Beautifier emails. Installed J!MailAlerts plugins will show up on the right-hand side of the Editor & you can include the respective tags in the email content. Please read the separate articles on using J!MailAlerts plugins with Beautifier & showing Ads from SocialAds in Beautifier.