The Problem
We were faced with the problem almost every company has.. That of making sure that information sharing across the organization is maximized in a bid to improve overall efficiency & educate our employees. To help do this, we started quickly put together a Company Intranet using some great extensions like Kunena, Docman, Phoca Gallery & of course Joomla content ( We Plan to upgrade this to Flexi Content later)
One of the Major issues, which you must have already guessed ... Was that the intranet was in place for over 6 Months.. but the activity was limited to a few individuals.. But even then no one else was looking at the posted info.. So effectively.. there was no information sharing .. file sharing.. Nothing.. Nada
After taking some offline sessions, we realized that though we were promoting the intranet heavily, there was no way for the people to know when new content was added..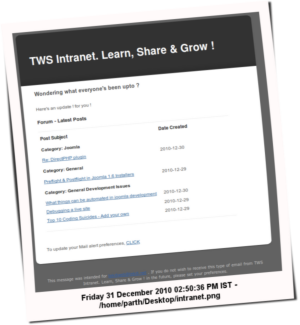 The Solution
Who would believe that the Solution had been staring at us, sitting  in our own Downloads Area at Techjoomla for months !..  So in came J!MailAlerts..
We set it up with plugins for Kunena, Phoca Gallery, Docman & Joomla content & also threw in a new custom made plugin called most active users which calculated most active users across the extensions we were using.
We are now using this on our Intranet for almost a month now & we love the results.. Read on to see actual usage statistics & see how an alert email looks when there is content available from all the plugins..
The Statistics
We only have stats from September onwards since the stats tool ( We are using JoomlaStats) was only installed around then. Initially the Intranet was only being promoted by asking people to regularly contribute on a one to one basis.. There was no real organizational push behind it..  We started promoting it a bit via offline sessions to make people understand the importance some time in October which did increase the activity .. but it was not spectacular & we could see that only a small percentage were participating.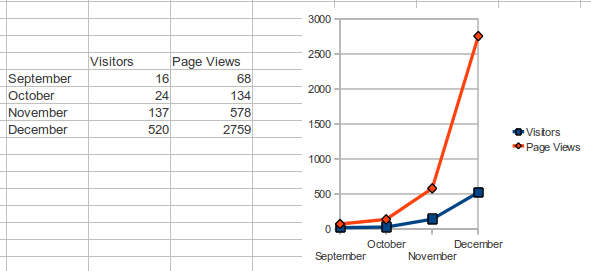 The above chart is made in Open office spreadsheets since i didnt find any place to see charts in JoomlaStats.. We are seeing a nice growth since December & we hope it continues !
Also see the immediate effect that we have seen soon after the email arrives in the Inbox of the user..
* Note : Visitors shown here are not unique visitors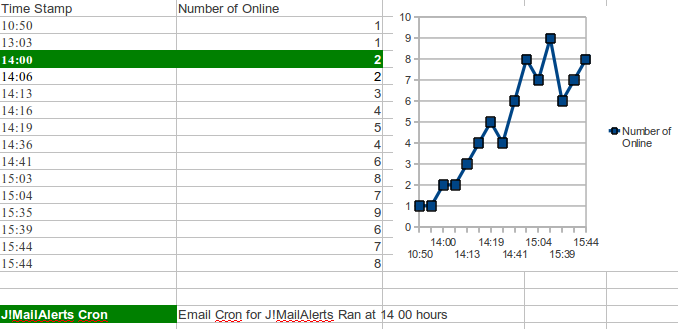 Our J!MailAlerts Cron has been set to run at 14 00 hours everyday & Alerts are set to Daily . We have recently changed this so that everyone gets an email in their Inbox when they get back from Lunch. Here's a statistics chart of how the user's online have increased after the email alert has gone out ..
And Finally.. Here's our email looks when all content is available. Hope you like it..
Well thats it.. & based on our own experience .. we can recommend it to be a must have .. for Intranets atleast ;)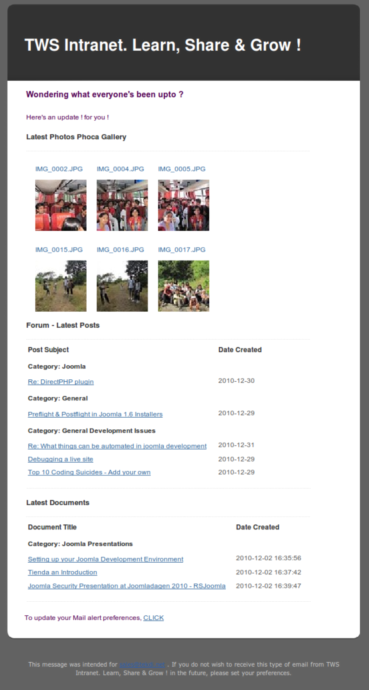 We'll post a follow up blog in a couple of month wit updated stats & to see how it performs over a sustained period of time !
We'd like to invite your to add your own experience with your sites & applications & see how its doing in the real world ! We shall be adding some of our client case studies as well ! Do post in the forums below.. We cant wait to hear from you !
10 Replies

280

Views

0 Replies

44

Views