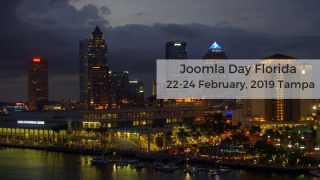 The fourth annual JoomlaDay Florida will take place from 22nd-24th February 2019 in Tampa, Florida at the Hillsborough Community College, YBor City Campus. JoomlaDay Florida is currently the largest attended Joomla Day in the United States. The who's who of the Joomla community is going to be an integral part of the event. Even the Wordpress community is going to be a part of the event this year.
This is a perfect platform that brings together web designers, developers, and marketers from across the globe. JoomlaDay Florida is an event for all Joomlers that are interested or involved in web design, development, and digital marketing. This event is a great chance to meet Joomla experts who can share their knowledge and expertise. It is a perfect place to make new friends and meet people of diverse culture. Besides this, one will be acquainted with the happenings in the Joomla world. Learn how the upcoming Joomla 4 will impact businesses and the Joomla community. Whether you are a novice or a professional, you will get trained by the very best Joomlers with workshops on design, Joomla applications, Joomla administration, and security.
Like many other Joomla days, JoomlaDay Florida is a great opportunity to get recognition for your Joomla knowledge. Open Source Matters will be holding Joomla Certification testing at this year's JoomlaDay Florida.