Its a great pleasure to announce (finally ;)) that our super flexible Ecommerce solution for Joomla is here ! For those who havent heard about this yet, here's a recap !
In all the years we have been working in Joomla, we have continuously been frustrated with the lack of a shopping cart solution thats plug & play & at the same time is robust & scalable. There are lots of Carts in the market. But for most applications, they are just too huge & come with a lot of overheads.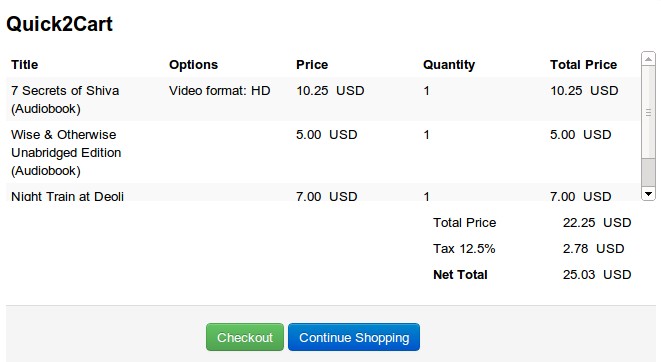 As you might have heard, Frustration is the Grandmother of Invention :) Well then as it goes.. One thing led to another & Quick2Cart was born. It was planned though !



Quick2Cart is a super flexible E-commerce solution that lets you setup a Shopping cart Quickly. With great CCK integrations, you have the freedom to manage the products as you want while Quick2Cart handles everything related to Cart & Checkout.
Plus with 10+ Payment gateways on the Common payments API & awesome developer APIs its easy to extend Quick2Cart to do your Bidding..See the Full Feature List
Super Awesome Discount for Limited Period !
We are giving an awesome discount for early birds ! Get a 6 Month Subscription for just 30$ ( Regular price 45$) & a 12 Month Subscription at 45$ ( Regular price 80$ ) !! Buy Now !