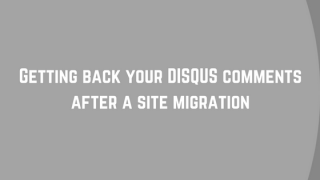 Lot of us love to have DISQUS comments on our sites. It's one of those hosted commenting systems that adds virality to all content and comments on your site. Techjoomla uses DISQUS too, and during our recent site upgrade we had a challenge ensuring that our comments get carried over since the migration meant that the links/URLs to all our pages got changed. We were really glad that we chose DISQUS, since they have some really useful tools for migrating comments when changing URLs. 
We wrote a neat little script that could read the export file that DISQUS generates and find out the 404s. Then we added these 404 links as aliases to the correct SEF URLs. Re-ran the script to get a mapping file that could be uploaded to DISQUS. Done!
Here are detailed steps along with links to resources to get the job done!