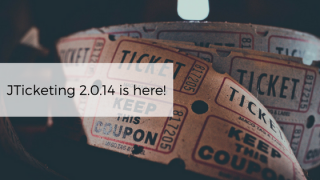 In keeping with our commitment to ensuring our products are secure and bug free, we bring you a security and maintenance release for JTicketing v.2.0.14. Besides fixing issues found in our audits, we have also fixed a few bugs. Please read the release notes carefully before upgrading to the latest version. It is recommended you upgrade to this version ASAP to ensure you are on a secure version. Read on for the complete changelog.
Money Library Introduction from v.2.0.10
When one talks about money, the numbers are meaningless without a specific denomination. We introduced support for a money library from JTicketing 2.0.10 onwards to support currencies in a more meaningful manner. In the past - for instance we were not able to support the Japanese Yen (¥). This is now supported. This was a major change that we had not announced when we released 2.0.10 which we are highlighting now.
Changelog
Bug fixes(13):