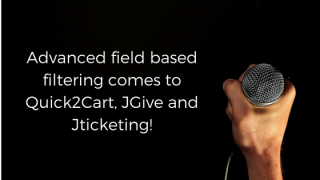 We are delighted to announce the release of Quick2Cart 2.9.1, JTicketing 1.8.5 & JGive 1.9.2. The reason behind the joint announcement is that 'TJ Fields' an extension all of these products share for field management, has got a major architectural upgrade. This upgrade brings extensive field based filtering for Products, Events and Campaigns respectively.
This was made possible due to extensive improvements in TJ Fields which introduced a universal filtering system which allows extensions using our fields management system to automatically get field based filtering. All these extensions ship with TJ Fields v1.3 integrated.
Besides these, each extension ships with minor improvements and bug fixes.
Buy Quick2Cart Now! Buy Jticketing Now! Buy JGive Now!
View Quick2Cart Demo! View JTicketing Demo View JGive Demo!
Read on for the complete details of the releases and on information on how to configure the new field filtering system. All the existing subscribers are advised to upgrade to the latest versions of Quick2Cart(v2.9.1), JGive(v1.9.2) and JTicketing(v1.8.5) as soon as possible! Read the release note carefully before upgrading.