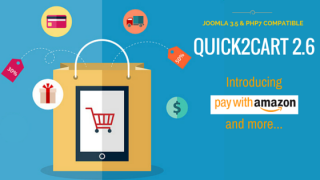 With Quick2Cart on your Joomla ecommerce site, your users will have an out of the box online shopping experience. Quick2Cart 2.6 is a very special release since we have at least one thing for all of them; the Admin, the Store owner, Buyer and not to forget the Developers. Let's have a look...
What's new?
Pay with Amazon Integration
Handling stuff like payment gateways, shipping providers etc. has always been a pain. Now let off this pain, since the entire checkout process and post checkout will also be handled by amazon. Let people buy a product on your store and let Amazon handle the checkout part including shipping etc. How's that? :D
Note: As of now this Features is for "Pay with Amazon India" and will work only for single vendor
...