We're happy to announce that, soon we will be introducing the "promotion rule" for the store owners using Quick2Cart. We're doing little different this time by approaching our subscribers early to get a feedback for a feature which is being developed in the interest of people using Quick2Cart. This feedback from you will help us to develop the feature in a way you really want it to be. We're looking forward to getting your feedback.
Here is how we are trying to implement this feature:
With promotions rule you will be able to create
Discount on product bundle e.g Buy MP3 Player with Audio Speakers and Get 5% discount

Discount on purchase of specific units from category e.g Buy 2 pair of shoes and get 3% discount

Discount on purchase of specific units from different categories e.g Buy 2 Shirts and 1 Jeans to get 10 % discount

Flat or Percentage discount on specific products.

Discount on total cart amount (Per store) e.g Buy products of more than $ 200 from particular store and get 10 % discount or Flat $ 5 discount

Buy specific units from some category and get specific units for free e.g Buy 2 Jeans and get 1 Free
Creating promotion rules
As per the new architecture, store owners will be able to create a promotion which will be applied on customers cart. Created promotion can be coupon dependent i.e if store owner want to apply promotion only if customer enters the coupon code then he can make coupon as required in the promotion rule.
We will also provide the facility to set maximum discount amount for the promotion i.e if you are applying 10% discount to order above $500 and you do not want to give discount of more than $60 then you can set maximum discount amount per promotion rule.
Below is a possible wireframe for create promotion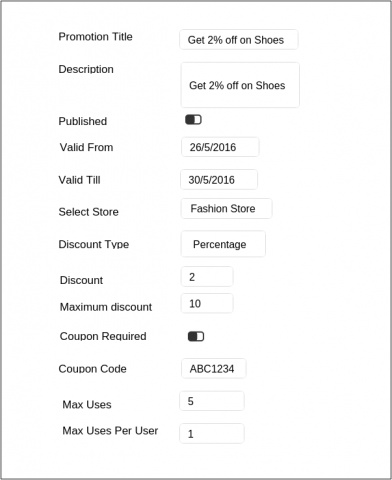 Adding rules for promotions
Once store owner has created a promotion, he will be able to add rules for the promotion. We're trying to build the User Interface for adding rules as simple and readable as possible. (Inspired by magento)
Possible promotion rules will be based upon Product attributes (Category, Product-SKU) or cart attributes (Total cart amount, Quantity in cart).
Store owner will be able to add multiple rules to the promotion and the promotion will only be applied only if the customer's cart satisfies all the rules.
Following is the wireframe for adding rules for the promotion.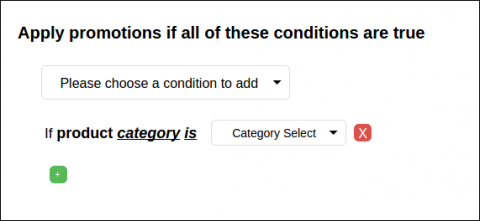 Please share your valuable feedback so that we can build it better for you. The sooner we hear from you, the more of your feedback, we would be able to integrate better. Feel free to comment on the Blog!