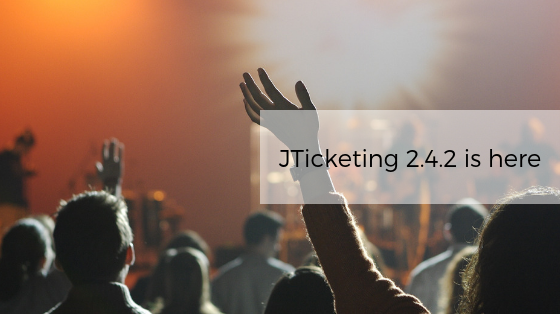 We are happy to bring you a new update for JTicketing, v2.4.2. We have fixed many bugs in this release. This is primarily a maintenance release to ensure all extensions using 'Techjoomla common library code' function smoothly on the same site. If you are using our other extensions like JGive or Quick2cart or Shika along with JTicketing on the same site, please ensure you upgrade all of these to make those work together.
Please read the release notes carefully before upgrading to the latest version.
It is recommended you upgrade to the latest version as soon as possible to ensure you are on a secure version.
Read on for the complete changelog.
Changelog
- Bugs(5)
Bug #140844 EasySocial integration - My Ticket purchase app - Getting a fatal error

Bug #141702 Integration event - on single ticket purchase, view ticket button not displays

Bug #143350 [Event list view-frontend]- Shows notice on the event list view

Bug #144773 PHP compatibility issue - in case of unlimited seats getting tickets are sold out

Bug #144791 [Enroll ]-Enroll email displaying last name tag