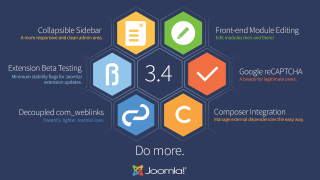 Its been a long wait since Joomla 3.3 was released but Joomla 3.4 is finally here and it brings with it some great features.
3.4 is the first release as per the new release strategy and road map published by the Joomla Production leadership team (PLT) last year. One click updates have got easier for over the years and that's one thing that I hope will solve Joomla's version fragmentation issue (not too different from the one we see in Android). This means that the Joomla 3.4 update is just a click away for those of you on 3.3 or older versions of the CMS. If you are on 2.5 the task isn't that much harder but you do need to take some extra care.
For the 1.5s and the 1.0s it will be a migration but frankly if you are still on that old of an version its about time you did it ! The Joomla update team has done a spectacular job in providing some great documentation, tutorials and videos to help you get updated. Check it all out here !
...