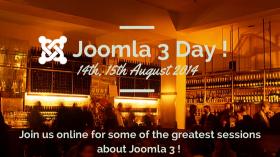 Joomla 3 Day, an online event of Webinars is happening on the 14th and 15th of August thanks to OSTraining Joomla 3 Day will be like a free, online Joomla Day with expert presenters from all over the world coming online to talk to you about Joomla 3 and what you can build with it. With over 18 sessions on a variety of topics, this is one event you don't want to miss !
Plus since the event is online, you can attend from the comfort of your home or office ! Know more about Joomla 3 day here.
Team Techjoomla has 4 presentations in the event. Some of which are general educational ones while some will let you take a deep dive in some of our products & experience them hands on !
The Techjoomla Team Schedule for Joomla 3 Day
Time

Presenter
Session
Sign up

07:00 AM
...
Continue reading