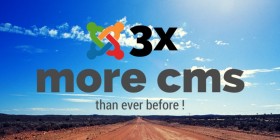 If you've read Our Joomla Story, then you'll know that we have been working with the it since the Mambo times. We've seen it grow from being the 'Son of Mambo' ( Thank you John Coonen from CMS Expo for that phrase! ) and evolving continuously to become an awesome platform in its own right.
Joomla has always been called a CMS but back in the Joomla 1.0 and Joomla 1.5 days, there were some major lacunas in selling Joomla as an effective CMS. Well to be fair you could get all those using extensions but the core was lagging. So trying to sell Joomla as a CMS to really large enterprise customers was a long hard battle to fight.
Back then its 'CMS Features' had lots of holes. Features considered basic in a CMS like tagging, extensive categories, ACL etc were just not there or were not up to the mark.
Joomla 3 however has turned all that over its head! If you look at Joomla now you will realise Joomla is MORE CMS than ever and beats other Content management systems hands down!
So if you had used Joomla in the 1.0/1.5 days and felt things were missing, its time to take a second look. And if you have not used Joomla to date, then this is one platform you have to look at.
Continue reading