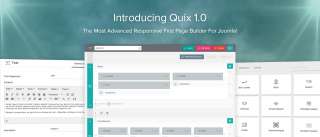 Joomla is one of the most powerful CMS on earth. As uncle Ben said 'With great powers, comes great responsibility'. Despite Joomla's power, its has one big drawback: building beautiful pages is cumbersome and complicated process.
A good looking page contains : components, modules and your modules should be rightly assigned to menu, etc.. As your site grows, it seems impossible to maintain and improve. If you want to change your template, it requires more amount of work because each template has different module positions and naming conventions.
Thanks to our friends at ThemeXpert for building Quix, a revolutionary page builder for Joomla. Page building in Joomla has never been easier before. Quix comes with advanced drag and drop layout builder, responsive controls, powerful collection system and much more.
...