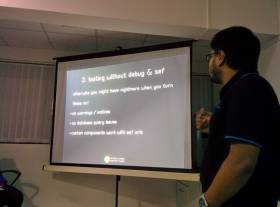 Joomla as a community has always been a close to me. Was really overwhelmed to attend the JUG (Joomla User Group) Pune meet. We had 30 odd people attending this meetup.
Learnt many new things through the presentation given by Parth Lawate and Ashwin Date, exchange of ideas took place with developers across Pune. Thought of sharing this experience with you.
The Sessions
This is the coolest thing about the JUG meetup is that its planned to be fun as well as productive. The sessions make sure that JUG attendees get nuggets of wisdom and new information every time !
Building it right with Joomla 3
This was something we all need to know about. The first session was a presentation by Parth, CEO at Techjoomla & currently Strategic Marketing Manager for the Joomla Project on Building it right with Joomla 3 . The presentation talked about key points you need to know about & make sure you do right while building a Joomla site. You can have a look at the presentation and add somethings to your knowledge.
Continue reading