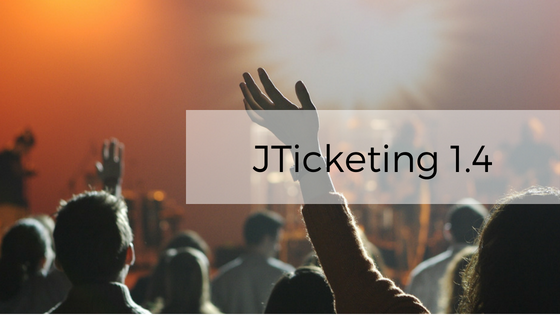 We are Happy to announce the release of JTicketing v1.4 which adds some really cool features & a great bootstrapped UI. 
Release Highlights
- Admin configuration option to add a count for maximum no. of tickets per user while booking tickets
- New UI with Bootstrap styling
- An awesome Admin dashboard with graphical reports.
- Psst... Under the Hood. Changes required to support our soon to come IOS & Android app for Event managers!
Besides these changes, the release fixes several bugs. Read on for the complete changelog. The update can be downloaded by active subscribers effective immediately. In case you are not using JTicketing yet, Get it Today
Full Changelog
Bug Fixes
Error message while deleting coupons, simplified

Added missing language constants

Validation of total ticket count while editing events
Improvements: 
Added all configuration settings to standard Joomla Options view and removed settings view from backend and added
API support for upcoming apps
Admin Dashboard with graphical reports
Bootstrapped UI