Parth
On paper, Parth does the Sales & is the CEO so to speak.. But he loves getting his hands dirty with code, innovating & helping the team come up with new stuff !
Working in Joomla since the times when it was called Mambo, Parth is passionate about everything opensource. A Mechanical Engineer by profession, Parth was working with content management systems like PHP nuke while doing some voluntary work for non profits when he stumbled upon Joomla & was completely hooked
Parth has been involved in the Joomla project as part of the Joomla Bug Squad, was a mentor for Joomla at Google Summer of code & plays a key role in managing Joomla User Group Pune & organising Joomla Day India.
When not in the office, you will find Parth in the mountains hiking or cycling, reading a book , cooking or gardening ..
Read Parth's Blog
|
Follow Parth on Twitter
Ashwin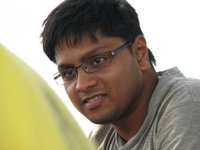 Ashwin is the Lead geek at Techjoomla. The CTO so to say :) Ashwin has been dabbling with Joomla since the Mambo days. He knows his way around PHP Frameworks, Wordpress, Drupal, Magento as well any kind of coding in general just as well as he knows Joomla.
The Guy to go to when anyone is faced with a tech challenge, its also his job to make sure the code getting shipped is top notch !
Ashwin loves to travel, read & cook.
Read Ashwin's Blog | Follow Ashwin on Twitter
Dipti
A Developer at
techjoomla.com
, a Foodie, loves to hangout with frendz, adventurous, outspoken.
Believes in 'if you can't avoid it then, enjoy it!'
Besides helping develop the most awesome extensions, she's also in charge of making sure our customers our happy & get the best support & documentation.
Manoj
Developer at Techjoomla & responsible for making sure you get bug free, quality releases on time !
*Music, Coffee, Piano, Web, Lappy, Green trees and Blue sky
*Coder, Blogger, Workaholic at work, Twitaholic at home, Writes lines of code & paragraphs of stories, Living and loving open source.
*Aiming for excellence in open source "Let there be peace and free code pieces"
*Inspired by — MK Gandhi 'You must be the change you wish to see in the world. '
Sagar
A bit of an introvert, Sagar helps build some awesome extensions at Techjoomla. Besides coding, he's a cricket fan (who in India isn't ;) ) & loves watching Marathi movies.
"If a man does his best, what else is there? "
Follow sagar on Twitter
Vaishali
Bubbly & full of life, Vaishali is passionate about giving her best in helping build the greatest of products.