The JTicketing Event Manager's application for IOS & Android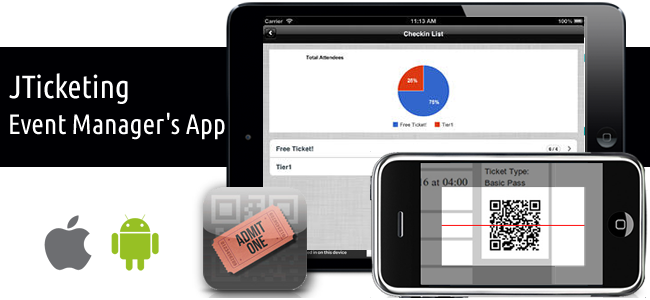 The JTicketing Event Manager's App gives awesome power to your Event Owners!
Scan tickets, look up guest names, Check quick stats & much more!!
The JTicketing Event Manager's application lets Event Owners/Organisers manage their events easily by Checking in attendees at their Event using JTicketing's awesome Scan & Add and Search & Add Features.
Go through the setup documentation to see how to setup JTicketing & your site to allow your users to start using the app.
Get It Now!
Watch it in Action @ Joomla Day India!
Embed Embed this video on your site
---
Easily Scan or Search & Scan to Validate Tickets
Quickly validate tickets with the built in QR Code scanning feature or search the guest list to ensure the same tickets are not being used twice.
---

Real-time and Informative Event Statistics
Monitor ticket sales, event attendance stats, and guests who have checked in. Get Stats by Ticket type & Pretty graphs to show you the split.
---
Automatically Synced & Multiple Device Sign in Supported
All check-ins and event data are synced with your Joomla Site, so you can use multiple devices at different entry points across different mobile platforms.
---
Use the Techjoomla Branded App Completely Free
The Techjoomla branded JTicketing app is completely free & available for download on the Apple Store & the Google Play Store. This App simply needs your Event owners to fill in your site URL & their login details to start using the App.The free version does not limit any features. Just that in a branded version you wont see any Techjomla or Jticketing branding.
Note that you need to upgrade to Jticketing version 1.4.4+ to be able to able to use this app. Also you will need to setup Techjoomla's REST API extension to allow users to connect via the app. Detailed Instructions for Setting up your site for app use are available here.
---
Get a Completely Self Branded App at an Introductory price
While some users will be content with the Techjoomla branded app, for the more serious sites, you should go for our Self Branded option. The following elements are completely branded & customised to your site.
App Icon
Splash Screen
In built site url. No need for users to enter. They just enter their login details
App Title Name & Copy Right
Text Element / Language changes
Complete Source code of the App in case you want to handle future customisations yourself.
Note that this customisation is one time & does not come with a support package. However, we do provide access to updates for main branch of the app source code for a period of 6 Months.
---
Last Updated: Thursday, 24 April 2014 11:55