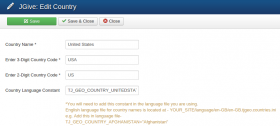 Hi Everyone,
We have released jGive 1.6.7 . We have added one major feature in this release - The Country and Regions manager with multi-lingual support.
The Country Manager and region manager now allows you to restrict which countries and regions you want to allow donations from. This way if you service lets say only the UK, then your users dont have to browse through a huge list of countries and regions and donating is that much simpler for them !
Secondly with the multilingual feature you can translate names of countries and regions into your local language. So if you are a German website, you can translate India to Indien.
Here is the change log for this release.
+ Features added
#31909 Add Country, Region & City manager in jGive
...
Continue reading